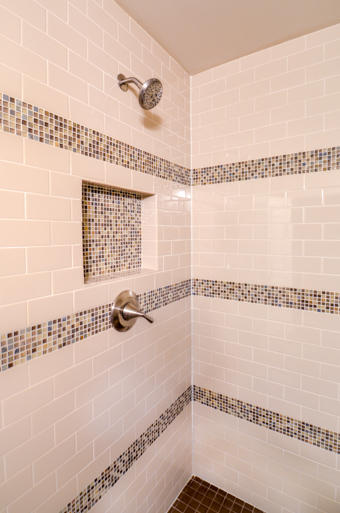 CONTRACTOR: Custom Dwellings, Inc.
DESIGNER: Stephanie Ives, CustomDwellings.com
PRICE RANGE:$20K
Problem
This client's unfinished basement required completion to extend the homeowner's functional living space and to support the regular entertaining this family enjoys. Evaluating the long-term use of that basement, the homeowner decided to add a large bathroom which could easily serve guests and later transition into part of a separate in-law suite.
Solution
Clever use of the layout allows for a wide shower with bench seat and plenty of storage throughout the bathroom. Classic subway tile gets a touch of whimsy with confetti-colored bands of glass and stone tile mosaic. Luxury vinyl tile on the floor emulates the look of hardwoods with the extra durability necessary for wet areas. Photo credit Amy Morris, Cira Photography